Testimonials
"We had problems loading our horse"
"I wasn't expecting miracles. I was hoping for the tools to help us continue to work with Robbie's lack of confidence. Gill was amazing!! So calm, so patient, so understanding. Robbie was so relaxed. Actually we all were! I cannot express how grateful I am to Gill for coming to see Robbie and working with him and us. We never felt under any pressure an I know Robbie didn't! Even though we only booked her for 2 hours Gill never let us think she was going to leave until she had achieved what she wanted to. We got so much more than we hoped for.
This morning we were able to walk Robbie on and off the box without any issues or hesitation. I cannot begin to tell you how happy that makes us feel. For the 4 years we have owned Robbie, people have been telling me what an obnoxious, stubborn, pig headed, massive attitude horse he is. I've never believed this and always believed him to be a baby witrh confidence issues. I'm so glad I contacted Gill. I would highly recommend her and have! Thank you!"
T. Priday, Pencoed, Bridgend, Mid Glamorgan.
"I needed help loading my horse"
"Thanks so much! You've transformed my summer! I now have a lesson booked and a clinic too. I feel like a weight has been lifted from my shoulders, and felt quite emotional when my horse loaded back onto the trailer straight away after a trip out last night. You are a genius indeed!x"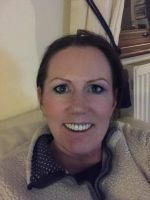 R. Abercrombie, Forest of Dean, Gloucestershire, UK.
Duke had a severe foot handling problem
"When I first met Duke I could approach him and even lift his fronts. However, that all changed the moment I put my trimming apron on. It was absolutely impossible to get near him, he was panic striken. His intense fear and confusion of anything related to being trimmed was obvious.
Over time, Gill has worked very hard with Duke, desensitising him to all things related to trimming! I can now trim his front hooves and we are nearly there with his hinds. Her patience is unending! Gill has been totally open with how he is progressing and we have discussed the best approach before my visit and how far we can go so we don't cause him confusion and ensure his and our safety.
Duke's fear was so intense he was a danger to himself and in the wrong hands I am convinced he would no longer be with us. Gill's patience, skill and understanding has helped Duke to enjoy life again and have a future! " Lindsay Cotterell (DAEP)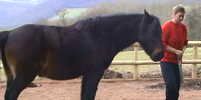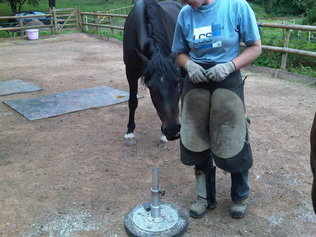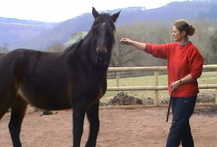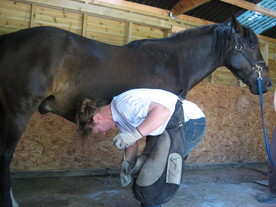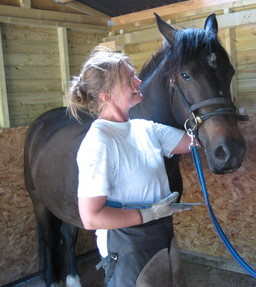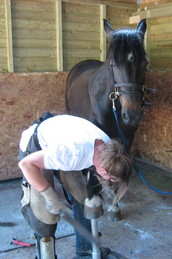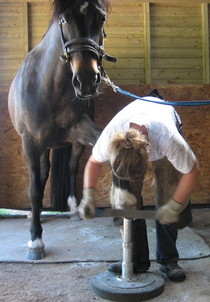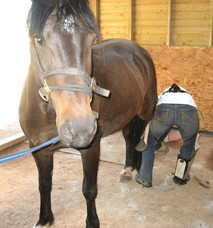 " Hi, my name is Helen Wells. I found Harley when I went to look at a large coloured horse for myself to ride. Whilst I was there, I heard some knocking sounds coming from a small, old railway carriage which had no windows and was all shut up. I asked the person who was showing me around what on earth was in there, but was told that it was nothing that would interest me. Every effort was made to try and turn my attention away.
After I insisted that I take a look, the door was reluctantly opened and I saw that the carriage had been divided into two. I thought to myself, "surely there can't be a horse in there?!" It was then that a little pink nose tentatively poked out at me, followed by a pair of tiny, squinting eyes that had obviously not seen daylight for a while. I realised that what I was seeing was a small foal, barely 6 months old.
My heart was thumping in my throat as anger and tears welled up inside me. I turned to the owner and said "That's it, I'll take this one", but then quickly realised that I had no way of taking him back home with me straight away as I had no transport available. That made me ache. The owner agreed to deliver him for me in a few days time.
Harley arrived 2 days later, chained to the back of a sheep trailer, shaking all over with fright. I held my tongue and somehow managed to control what I really wanted to say to the guy who had delivered him, as I just wanted him safely off the trailer and with me. I walked up to him, placed my hand lightly on his neck and told him it was all going to be ok. I hoped that this much was going to be true.
Harley was in such a poor and sorry state, with his own muck caked on him so tightly that it was pulling at his flesh. His belly looked wormy and ribby and he was crawling with lice. The only thing for him was a vet.
The vet came the same day to check him over and put him on an immediate 5 day worm plan. I was given some lice powder to apply to him and he left saying "we will just have to see how he copes from here".
Later the results of Harley's worm count showed him to be in the thousands, and 350 is inconsidered high!
Luckily I had another older horse called Jack, who had in the past done well with looking after youngsters and I knew that he could do it again. Harley settled in well with Jack, but it wasn't long before a major problem started - CATCHING!
No matter how long I persisted for I couldn't catch him or even get near to him. There was no way Harley was going to let me near him. There was a part of me that thought I couldn't blame him after all he had been through; but this was not good. If he ever was to get out and I couldn't catch him then we could potentially be in big trouble!
I persisted for a week or more, still with no joy. The vet was due out soon for his check up so I had to find someone who could persuade Harley more than me, this was when I found Gill Bradley.
My initial thoughts were "how on earth is she going to take me seriously, especially when she learns that I've had horses for ten years - great! and I can't even catch a foal!" this amongst other thoughts were running through my head.
Gill assured me Harley would be fine and that he was displaying a typical foal behaviour. She said that she could show me how to use my body in such a way that would draw Harley towards me. I felt relieved and intrigued and couldn't wait for her visit.
When the day of her visit arrived, Gill took the trouble to listen to me whilst I told her all about Harley's story and the ordeal he had been through, and this was before even approaching him. She also explained to me about how horses communicate to each other through body language. Straight away I began to see the importance of how our body language and movement can affect the horse and immediately I could see the sense and a way forwards.
Gill came to Harley and myself with a sympathetic approach, always explaining every step that she made, her approach and how she was using her body and energy to communicate with Harley. All the time she was around Harley she kept her voice and energy very low. I was fascinated that she was able to predict what Harley would do in response.
It wasn't long before Gill was able to put on the head collar, but just as soon as she put it on she was taking it off again! My initial reaction was " oh, no don't do that we'll never catch him again!" but before I could say anything she was putting it on again with no resistance from Harley, taking it off, then she was walking away with him following it and then putting it on again etc. really showing Harley that it was ok and getting him to fully accept it.
At the end of the session I realised that although Gill had done her work, that now it was going to be my turn as his owner to carry on this work! Help!!!!!
Gill e-mailed me a plan of action, clearly pointing out what to practice and when and for how long and also helped me to realise the importance of committing to practicing and seeing it through so that Harley and I could become a team.
I worked in short sessions as she suggested for 2 weeks and soon Harley was 'wanting' to be caught, showing a great deal of trust in me. In fact he is now so joined up with me he follows me everywhere. Gill now visits on a regular basis to make sure Harley's training plan is going well and to progress onto the next step. I am proud to say that Harley is continually growing into a beautiful, healthy and confident, well mannered, appaloosa, quite a contrast to the skinny, frightened foal that arrived.
Gill also introduced and taught me how to use a Monty Roberts Dually head collar and as a result Harley has never pushed or pulled me around and always has had respect for my personal space. I have really enjoyed having Gill as a trainer both for myself and harley. She is always making new and interesting training programmes for him, and he is now enjoying lots of different experiences which is helping to continually build his and my confidence, some of which has included: pole work, tarpaulin work (which he walks over and wears with no objection!), spook busting, loading and in hand hacks. Gill has also made sure that Harley is fantastic with having his feet trimmed which makes everybody's life easier and safer.
One of the main things that I have learnt along the way is that whilst it is possible to train Harley to do the things we want him to do, such as loading, walking past spooky objects etc. I feel confident that if he was to say "No" to something for whatever reason on a particular day, then I have learnt what to do to get us both out of the situation positively and safely, and more importantly how to get him to saying "yes" again, and as a result my confidence has grown which I am sure Harley picks up on as well.
I am so glad that Harley has had a successful second chance in life, having now had so many good and positive experiences and I am hoping that the old memories from his rough start in life will gradually fade.
This is mine and Harley's story, and I hope that if any of you have any problems with your horses then please don't feel you have to battle away on your own, or suffer in silence. Gill is someone who understands horses and their psychology, she will never judge you, never use violence of any sort and she will help you and your horse to find peace and a bond between you.
I would like to say a big "thank you" to you Gill for all that you have done for me and Harley. You have really made such a difference in my life that you could not believe, and Harley and I can't wait for what you have install for us in the future." Love always, Helen and Harley xx
Helen Wells.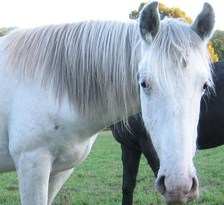 Mini needed help with loading
" I am so grateful and fortunate to have found Gill Bradley when I was feeling utterly miserable not being able to load my new Arab mare Mini onto my new lorry. They were my retirement project and I could not make headway, despite months of trying everything I knew. I had done Intelligent Horsemanship's leading and loading weekend and had no trouble loading my previous dozen or so horses. But Mini was different. She didn't do coercion. Full stop.
Friends advised me to give up on her, 'get an easy cob'.
Then a friend told me how Gill had helped her and I got in touch. She was patient, intuitive, observant, kind, very generous in her time, always listening carefully, putting up with tears, supporting, encouraging and believing in me. Gill quickly and tactfully identified that Mini didn't reate me as a leader, so we spent time working on leading her on the ground with authority and the right body language.
She taught me the 'Five Golden Exercises' that proved to be incredibly useful. After a while Mini did follow me onto the lorry, stay there and relax enough to eat. Gill came with me as I practised travelling Mini and later met me after rides to provide backup for loading if needed. As I grew in confidence and started loading solo she remained at the end of the phone if needed (latterly at the end of an email). Gill never let me down.
Two weeks ago I took Mini to an oversubscribed fun ride where, in short, she was overwhelmed with adrenaline, so we abandoned the ride and returned to the lorry. After a rest we did the 'Five Golden Exercises' and i asked her to load. She did, like a little automation. It was the easiest bit of the day.
Learning to load Mini was not a quick fix, but through Gill I learned a lot about myself and have definitelty improved my horsemanship. I cannot recommend her highly enough."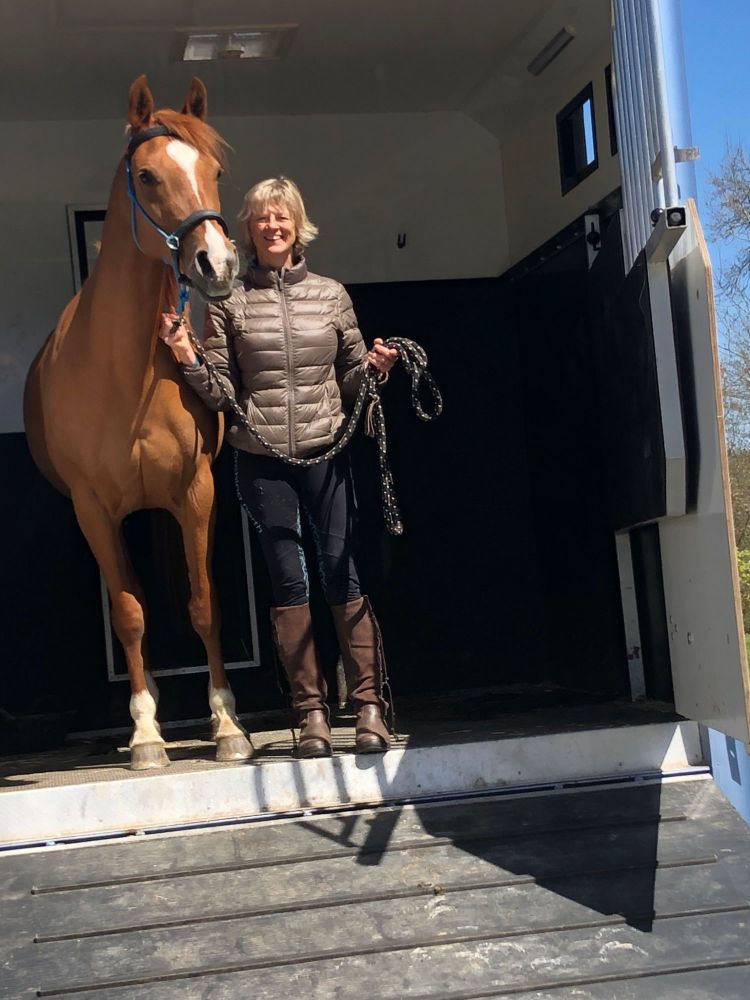 C. Flemming, Usk, Monmouthshire.
Loading problem
"Gill was so calm. My horse responded very well and she was so clear in her instructions that I was able to duplicate her actions, too well really as I did not require a second visit!
Gill was recommended to me and I have since recommended her to a colleague who is having similar issues. Many thanks, its so easy when things are explained."
Confidence and spookbusting clinic
" A friend had booked a session with Gill previously and recommended her. Gill has a lovely calm and friendly personality and explained things very well. It has built my confidence on the ground and even the next day I was using the techniques to get my mare to stand still while putting her rug on and it was such a difference. I'll certainly continue to practice what I learnt and certainly consider a 'refresher' session in the future. I will certainly be tellling people how good it was!" J. Tooze, Usk, Momouthshire.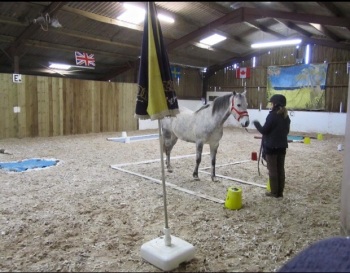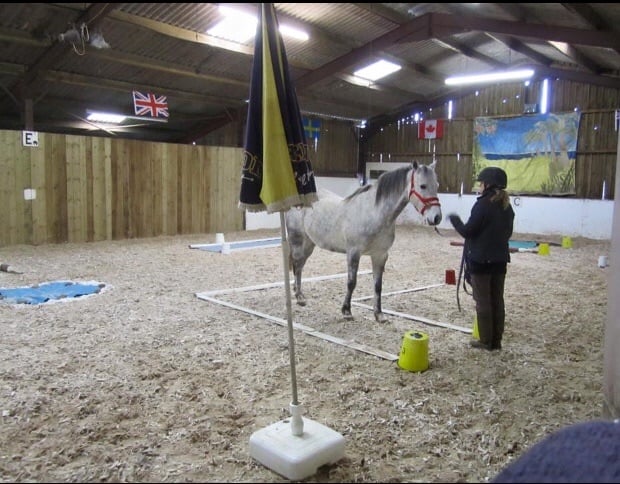 "I needed general help with leadership and partnership"
"Gill was great at explaining what behaviours from me would be helpful and what to look for in the horse. Everything was given step by step and at a pace I could keep up with. Spending time with Gill has helped me no end in understanding how to be an effective leader for my horse Callie. I have a clearer understanding of how she thinks and what I can do to make our partnership more effective. Gill was exteremly supportive and encouraging throughout the session and took time to make sure I understood the concepts we were working with before moving on. I really feel better informed as a result of our session and on the road to being a better owner for my horse. I would not hesitate to recommend Gill to others."
C. Masters, Cardiff.
" I needed help with my young horse"
"Gill is very calm, extremely skilled and knowledgeable. Gill has been very encouraging and I have been able to progress with my young horse."
L. Jeffes, Chepstow, Monmouthshire.
"

I had a new foal and wanted to start the right way

"
"Gill was very helpful at showing me how to handle my young foal to start his education from the start. The second visit was after weaning and I hope to continue having Gill's help."
A. Bloomer, Kidderminster, Worcestershire.
"

I needed help with my young horse

"
"I am really happy with everything that Gill has been doing with my young horse and her mother too. I feel she has given me tools to work with and I now find myself much more able to handle them both with understanding. Gill is so good at what she does that I would highly recommend her to anybody that needed help, she puts things across so well. I just want to say that I have owned horse for many years, have tried many different ways but I feel this is by far the best, and I can not thank Gill enough for what she is doing. She is kind, understanding and the best teacher I have had."
J. Laxton, Ross on Wye, Herefordshire.
"
I needed

help with my rescue pony, Norman
"
"I first heard of Gill through a neighbour about 4 years ago in 2010. I sought help with my horse Charles and both enjoyed and was hugely impressed by the work she did with us. Last June I 'rescued' Norman who had experienced a number of significant traumas. Recognising that his rehabilitation and re-backing required greater skills than mine - Gill was my first port of call.
Gill loves my horses which, for me, is the absolute pre-requisite of a good working relationship. Watching Norman emerge from his very 'shut down', anxious and submissive state into an outgoing, interactive, confident and happy chap has been a great joy. And Gill has been a huge part of that. Her understanding of horses, their lingo, thought processes and psyches (not to mention that of their owners!) is second to none. I have particularly appreciated her very patient, gentle and incremental approach, which has been absoloutely key to developing both Norman's confidence and my own and the growing trust between us.
Gill gives very clear explanations and guidance of the process of her work, what she is doing and why. What she says makes huge sense and most importantly it works. Her very detailed session notes have also been a great help in reminding me what I am doing and getting me out of muddles in between sessions. She is a brilliant confidence giver, always encouraging and never making me feel foolish (even when I do ridiculous things..) This was never more important after Norman and I had a very scary incident out riding which left us both pretty shaken. Her calm, reassuring and response very quickly got us back on track on less wobbly feet.
The sessions are full of fun and laughter and I love her quirky humour and interpretations of Norman's behaviour and responses. Gill makes me and Norman feel like the bee's knees and that is exactly what she is to us."
C. Nissel, Lydney, Gloucestershire.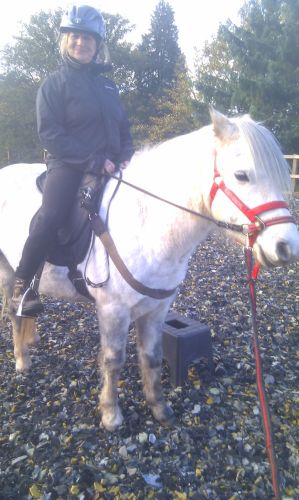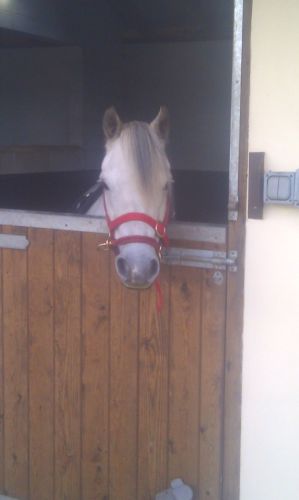 C. Nissel, Lydney, Gloucestershire.
"I had bought 2 unhandled donkeys"
"Gill has been a huge help to me. I bought two unhandled donkeys which quickly became three as one turned out to be pregnant! I had some basic equine knowledge as I had ridden as a teenager but nowhere near enough to cope with a hormonal jenny and her offspring.
Since engaging Gill we have worked on catching, being happy to be touched and groomed, foot handling, loading, and walking down the road, as well as long lining and backing preparation, which has led to one being ridden now by a child.
In the beginning I had a lot of people offering me their advice, none of it as gentle or as subtle as the methods Gill uses. Thankfully I ignored them and stayed with Gill!"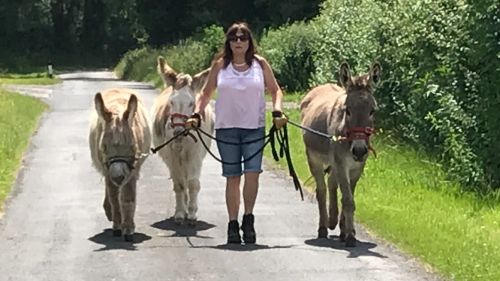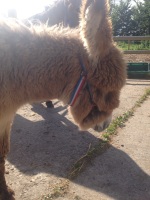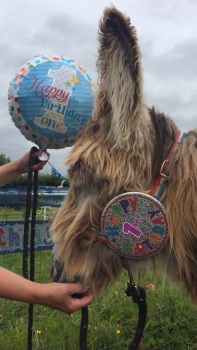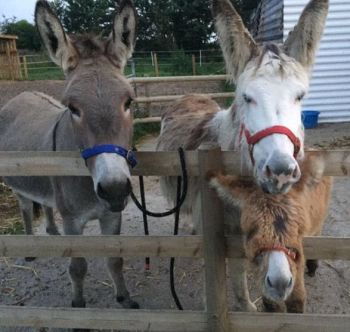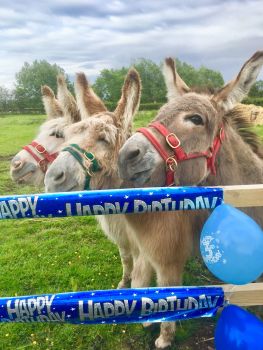 A. Underwood, Newport, South Wales
"I needed help with behavioural problems!"
"Gill is absolutely amazing. We had only owned Bronte for a couple of weeks, so as you can imagine not only did Bronte have behavioural issues but was also settling into a new environment. Gill is always on the end of the phone if I need her and that goes a long way! Gill is kind and sensitive to both horse and owner and really understands my very naughty 3 year old. I am over the moon with our progress so far. Still a long way to go, but we are certainly getting there!
I have recommended Gill to others on numerous occassions. Many thanks. "
V. Waite, Caldicot, Monmouthshire.
"I needed help with my blind horse who was not standing still at the mounting block"
"Gill explained theory and correct use of the Dually Halter and the importance of gaining ability to move all 4 feet of the horse; also groundwork exercises for me to practice and later long lining. We have made good progress. I can now pick up my horses feet and he is getting more confident about standing still at the mounting block. Gill has been a great pleasure to work with. She gives great confidence to me and to my horse Indiano, who clearly remembers her and welcomes her with a nussle when she comes to visit. I am very happy indeed with the work Gill has done with us and find her lovely calmness so helpful as a model for my relationship with my horse.
Gill was recommended to me by a friend at my yard who she helped successfully load her horse and I will most certainly recommend her to others."
"I needed help with a problem loader"
"I enjoyed our session with Gillian and most importantly watching my horse responding to her training. After getting my horse to load she turned her attention to training me and then me and my horse, making sure that I was doing things correctly. I now feel alot happier about going to events etc with my horse. The last time we had a problem loading I overcame it in a few minutes using what I was taught by Gillian. Gillian was recommended to me by a fellow member of the Offa Dyke EGB and I would definitely recommend her to other horse owners." R. Thomas, Ross on Wye, Herefordshire.
" I needed help with general ground work and helping my horse to accept clippers"
" I was extremely pleased with Gill's work on my horse. She really helped clarify things, gave me more confidence and quickly helped Max (my horse) to accept the clippers. He seems to understand what she is asking! Gill is really patient and takes time to explain to me what she is doing and is also very accommodating. She is very friendly and offers good professional advice. I feel I could contact her if I needed advice anytime. Both myself and a friend in the village book Gill on the same day so that we can share travel costs. I have recommended Gill to lots of people and also to my sister for when she brings on her youngster."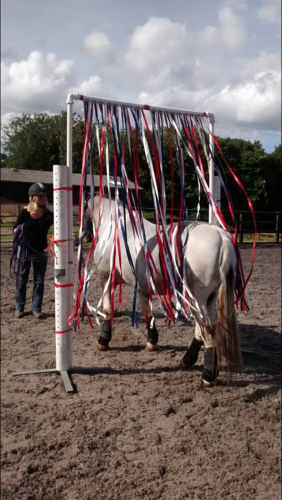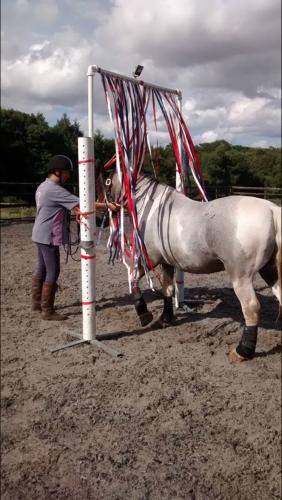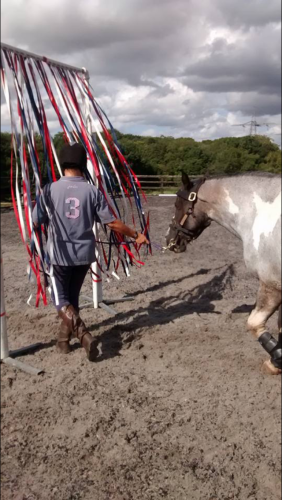 C. Rowland, Portskewett, Monmouthshire.
" My horse had a phobia of plastic!"
"Gill was very professional. The weather was awful but she was still very cheery!
A friend recommended Gill to me and I have since recommended her to others."
J. Marston, Christchurch, Gloucestershire.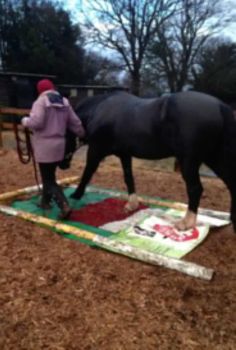 " I had problems with loading my horses into the trailer"
"Gill gave me the tools and confidence to not only load and travel my horses but to handle them on the ground. Gill was recommended to me by a friend and I have already recommended her to other friends who are looking for help too." B. Stewart, Abergavenny, Monmouthshire.
"
My horse was refusing to load!"
"I found our about Gill via Intelligent Horsemanship after reading Your Horse Magazine. I was extremely satisfied with Gill's help who was able to load my tricky horse Oliver. Now Gill is helping me with my younster who is a very lovely but nappy KWPN! Gill is always available for advice, generous with her time and totally unselfish - she even lent me part of her round pen so I could continue practicing loading confidently. Thanks! I have since recommended her to two of my friends who she is now also helping."
" My horse kept trying to kill me and I needed help!"
"

I heard about Gillian Bradley at one of Monty Roberts demos. Gillian understood my horse and worked her out very quickly. My horse challenged Gillian in a very aggressive manner and Gillian dealt with her fantastically. She explained what she was doing throughout and her shared knowledge has kept me safe. I implemented her suggested changes immediately and the changes have very probably stopped me from getting seriously injured by my horse. The work you do really matters. Thank you!"
M. Gooding, Cwmbran, Monmouthshire.
"I had bucking issues with my youngster"
"

Gill has made me want to be a better owner of my first horse. Gill is always there to give me advice, support and confidence. She listens and shares my feelings and is superb. I am always telling people about her. Gill's instructions are clear and conscise. I am thrilled and Gill has given me hope for the future. I am so pleased her services are available and always telling people about her."
M. Thomas, Newport, South Wales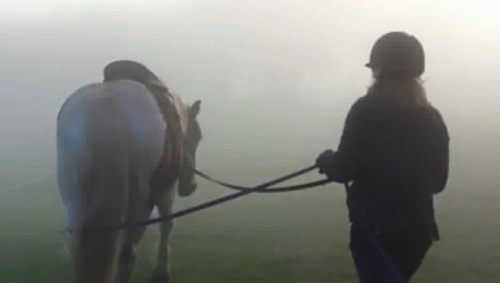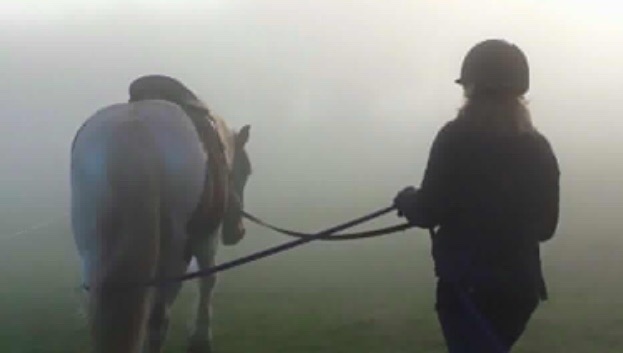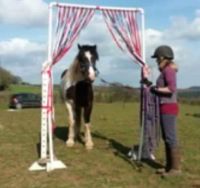 M. Thomas, Newport, South Wales.
"I had a boxing/trailer loading problems"
"Gill is so patient. I also learnt alot about how to handle my horse, and the body language of myself and my horse. Gill was recommended to me by a friend and I would certainly recommend her to others."
Help with catching and foot handling
"Gill was brilliant at every session. She fully explains what will take place during the session and gives full explanation to each step we take. I couldn't have asked for a better trainer. Excellent service. I certainly recommend her to others."
"I was having compliance issues with my horse"
"Gill was very clear and specific, also friendly and supportive to both me and my horse. I was very impressed with Gill and the help she has given. I now feel confident that my horse and I can progress together. I think Gill could help with all problems."
"I needed help backing a 3 year old horse"
"Gill talked us through the entire process tailored to 'Highlights" specific wiring needs. Gillian gets the results without using traditional/physical controls but understanding the horse's natural language. Gill was recommended by a friend and I would certainly recommend her to others."
"My horse would not box whatsoever!"
"Without Gills help I would of never been able to box my horse and would of reluctantly had to sell him as he would be no use to me for hunting etc. Gill was recommended to me by a friend and I would certainly recommend her to others. You couldn't improve on the service, perfection!"
J. Pardoe, Argoed, Blackwood.
" I had loading issues with my horse"
"Gillian took the time to understand Sid's background and underlying issues and explained very clearly to us how it was all connected. She built trust with him quickly and allowed me to understand and practice the exercises. He loaded 3 times fluently as a result. Gillian was exactly the right person for our needs. We were completely happy with the service and would certainly recommend Gillian to others."
C. Mowles, Peterchurch, Herefordshire.
" I needed help with groundwork for my 5 year old"
"Gill developed Sadie's trust quickly (and mine). There was a lot going on ..... hunt nearby (!) noisy tractors next door, inquisitive horses in adjacent field and my own nervousness after months out of the saddle due to injury. Surely everyone wants to develop a more positive relationship with their horse? This is the start and I would certainly recommend Gill."
"After one session our pony was much calmer around clippers and after two sessions we were able to clip without any sedation! Unthinkable before Gill saw him. Gill was recommended by a friend and I have since recommended Gill to lots of people who need help with behavioural issues". An excellent service that couldn't be improved!"
B. Griffiths, St. Briavels
"I needed help with my young horse"
"Gill is a lovely person who is absolutely fantastic with my horse. She is kind and gentle and explains everything fully. Gill is extremely helpful and knowledgeable. Without Gill I would be really struggling with my horse. I might have even given up and sold him on. Gill has a true gift with horses, she is also a very intelligent lady with a great personality. I highly recommend her she is brilliant. I wish she lived closer to me!"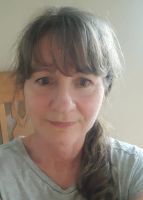 T. Bowes, Minsterley, Shrewsbury.
"I needed help with general ground handling and spookyness"
"Gill has made a huge difference to my horse and I, and greatly improved the realtionship we have. Gill handled my horse very well and I was so impressed at how well he responded to her. I cannot thank Gill enough for the help she has given us. She has helped us to regain trust and confidence in one another. I would not hesitate to recommend Gill to other horse owners."
L. North, Raglan, Monmouthshire.