Understanding & Connecting with your horse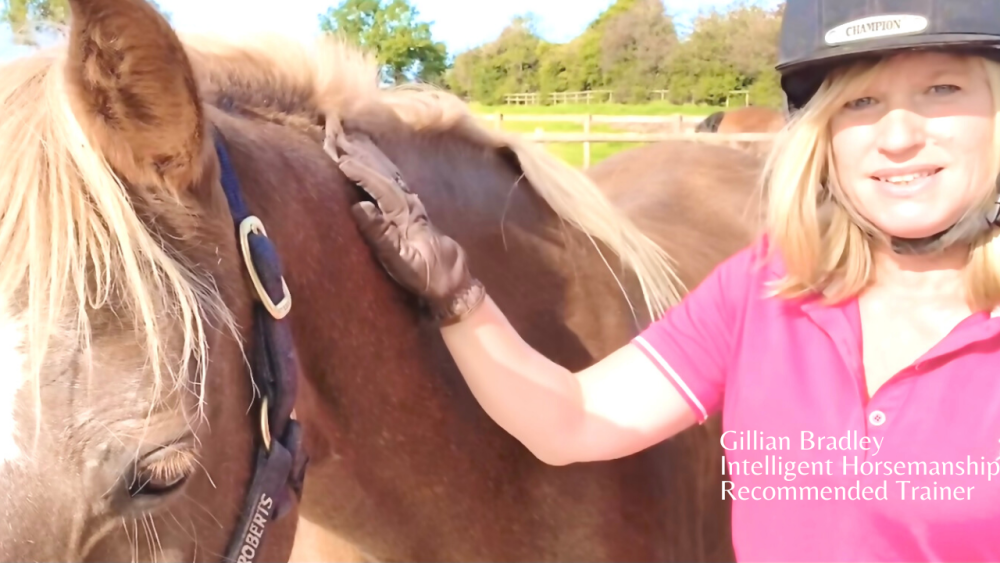 Intelligent Horsemanship Recommended Trainer
Covering Monmouthshire & Herefordshire for home visits
Specialising in helping owners with horses & ponies that are displaying behavioural problems.
My work includes using the psychology of the horse and their own communication system based on body language and gestures so that they easily and clearly understand.
This not only works but creates calmess and safety, whilst developing trust and a deeper level of connection.
I like to include and work with owners too during the session/s so that your relationship is taken to a deeper level.

So whether your horse is struggling with a specific issue that's causing you both stress
You'd just like a deeper understanding and connection with your horse
I can help you both to THRIVE together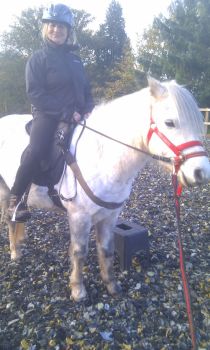 Examples of my work include:
.
Safe to be led anywhere!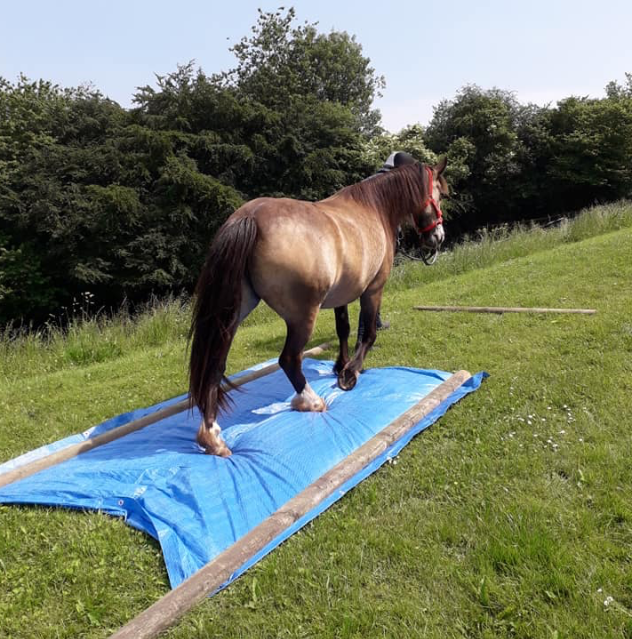 .

Safe to pick up feet and willingly gives each foot.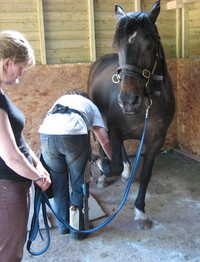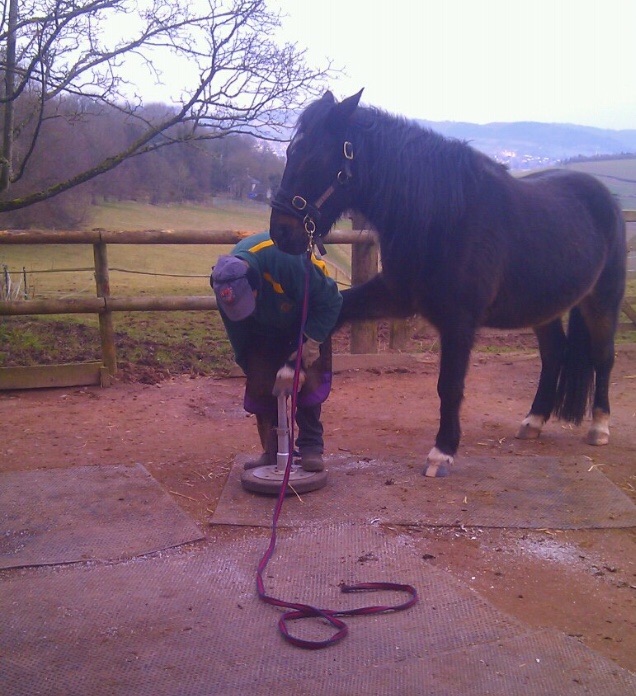 The video below features little Magnolia being introduced to the concept of foot handling at 7 weeks old ....
.
A horse, or donkey (featuring Muffin below) that respects your personal space and doesn't bite, nip or bash you with their head disrespectfully, is a real joy to be around.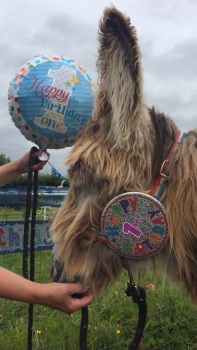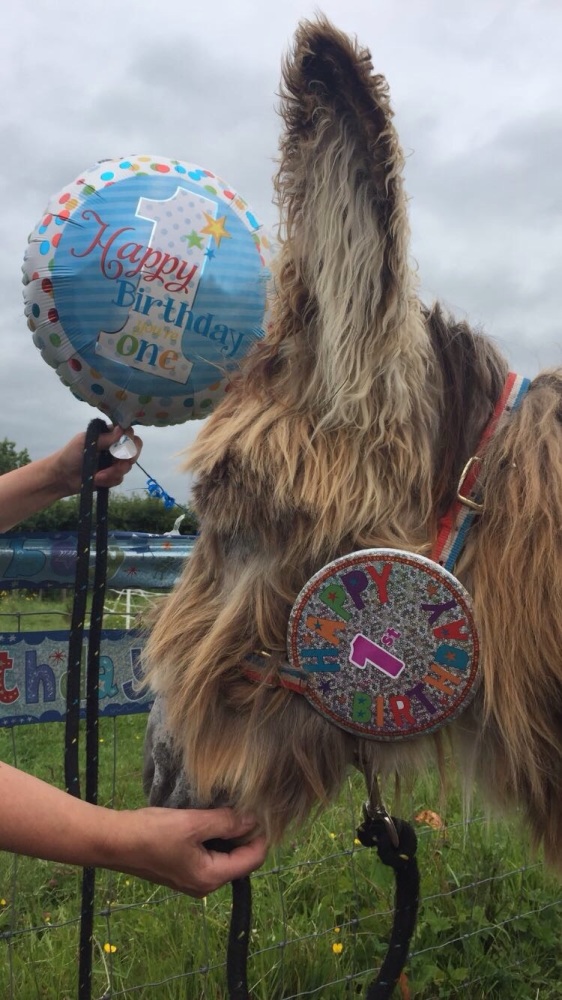 I can help you create a horse who......
.
Listens calmly to you and doesn't panic or rush when they don't understand.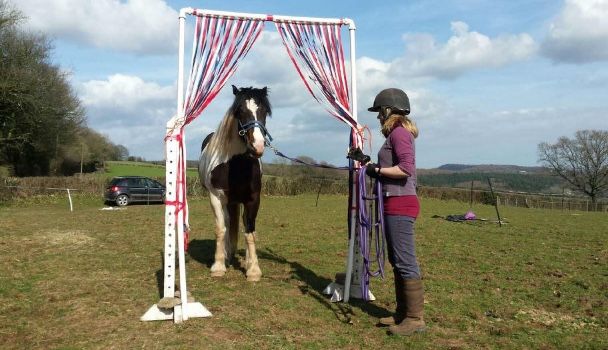 Blondie is featured below. She had a fear of tarmac after slipping the first time she walked on it. Gaining Blondies's confidence with walking over the red carpet on grass first of all and then using this to help her have the confidence to trust the tarmac again was a huge, successful step for her.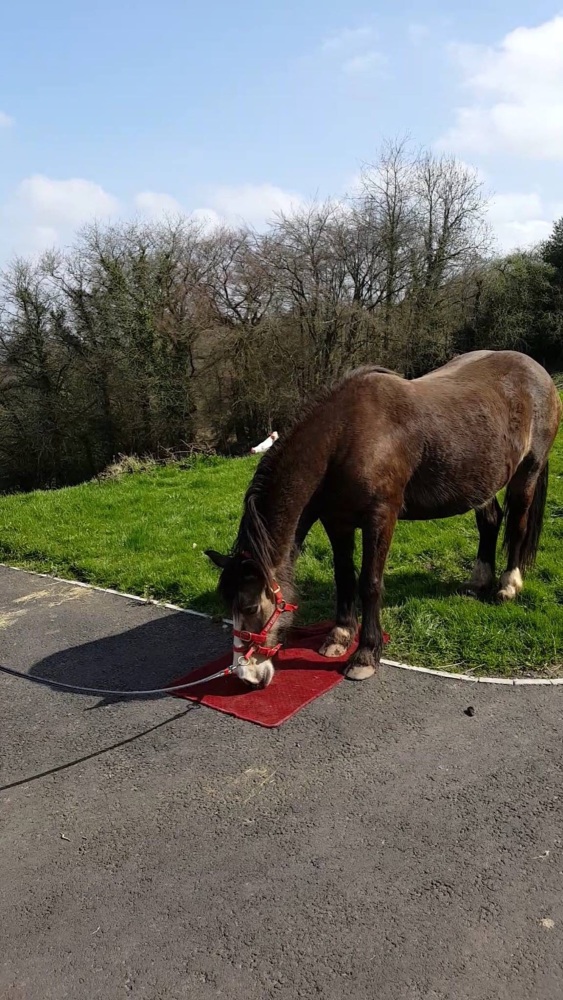 .
.
A horse who knows its OK to not be sure about something. A horse that knows they can rely on you to help them understand and keep them safe, is the essence of trust.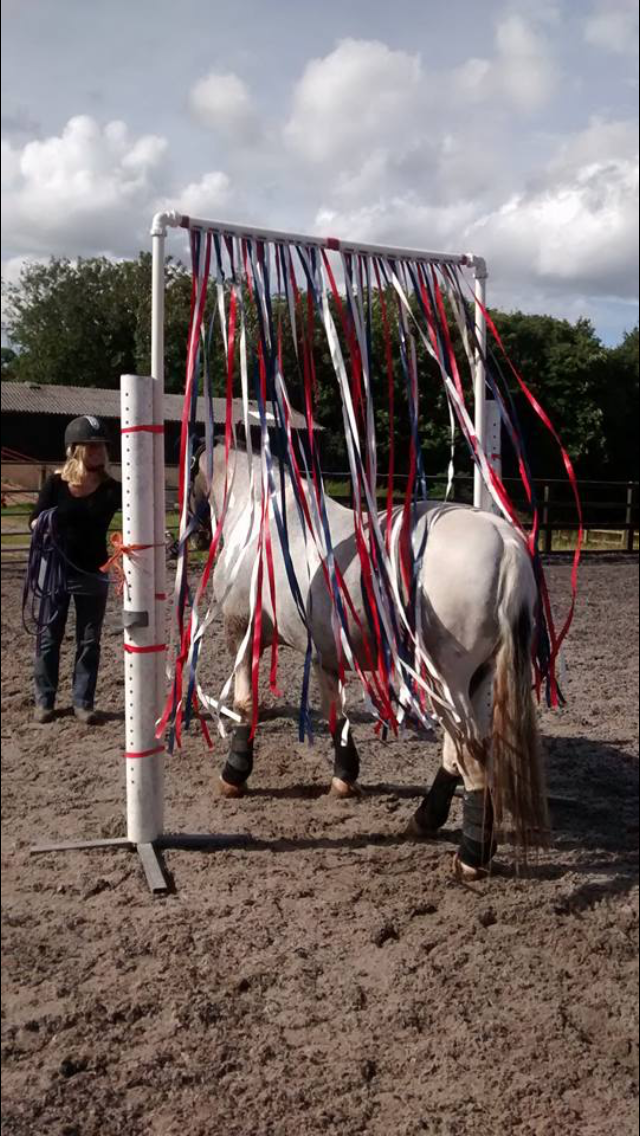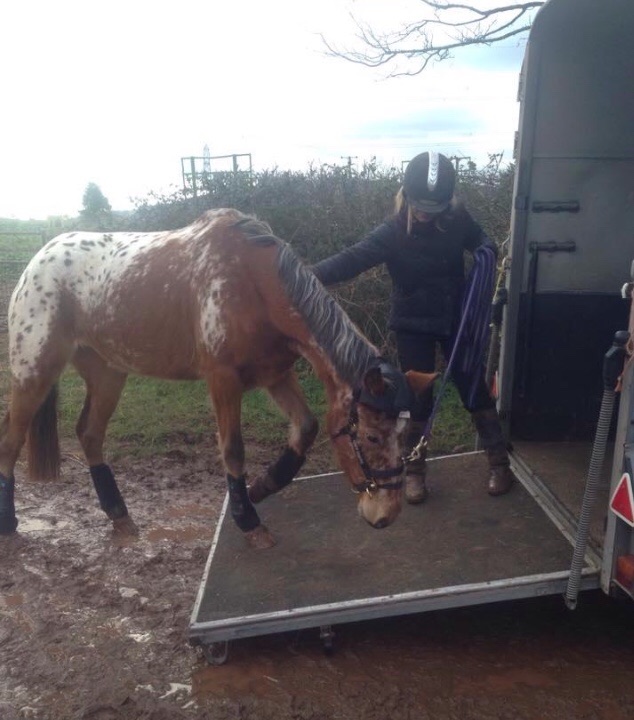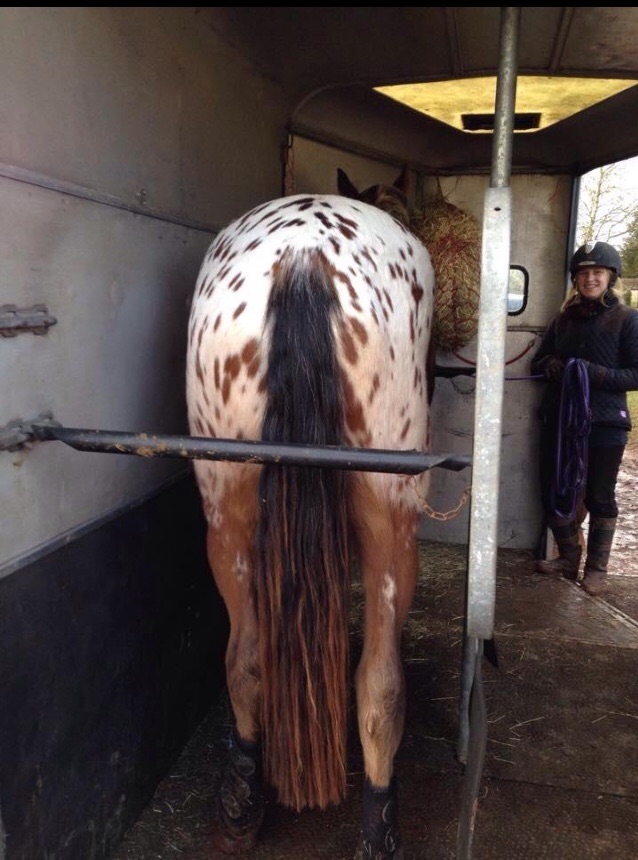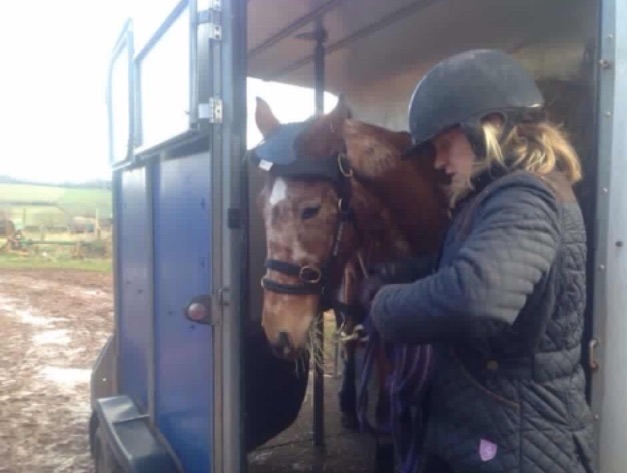 .
A
horse that quickly releases any pressure and doesn't let it build up, but finds relaxation and safety being with you is a great start towards developing a great relationship.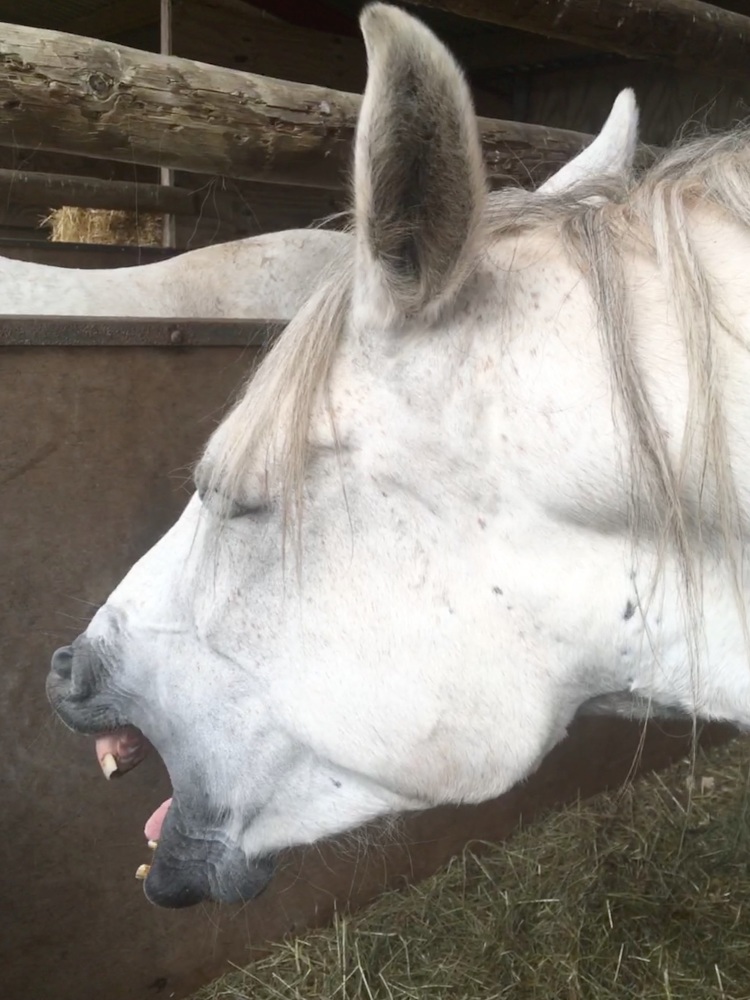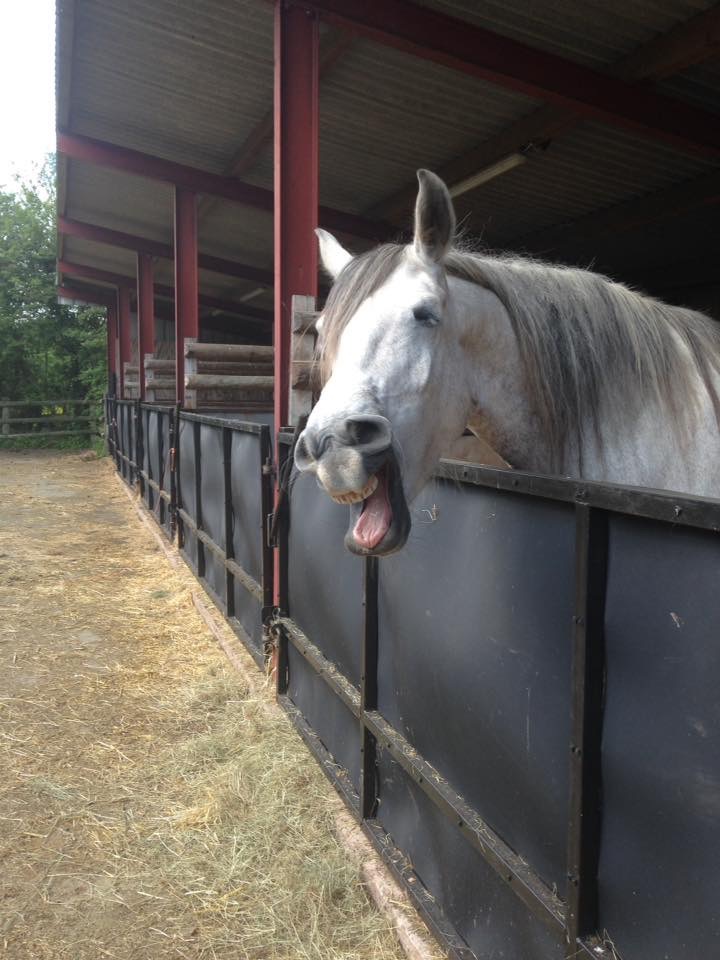 This is Rodney when he's not releasing tension. A very handsome boy!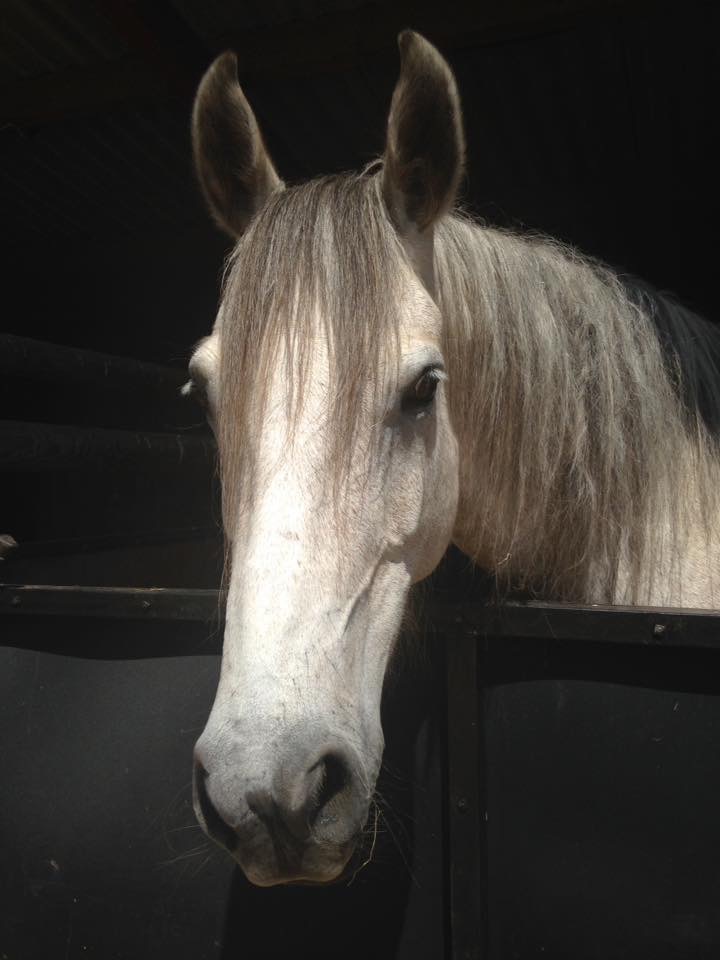 Rodney is featured in the video clip below. He was incredibly head shy and this clip shows him really releasing mental tension. It was taken after a lovely session whereby he allowed me for the first time to lightly apply my fabric 'head wrap' to his head in place of a headcollar. 'The wrap' which I use on horses that are tricky to catch or are extremely head shy seems to have a very theraputic effect on the horses I work with. They become beautifully calm and very relaxed and sleepy in the session and offer much release after it's taken off. I think they very much enjoy the sensation of being lightly touched on their head without the fear or association of a head collar.
.
Creating a horse that happily accepts their first dummy rider before putting a human onboard is always a joy to see and keeps everybody safe.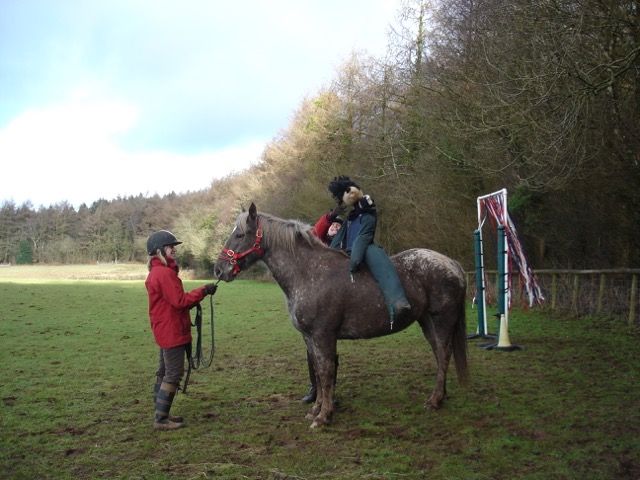 And then there's LOADING!
So you can go off and enjoy those beach rides, competitions or hack out in different places, stress free.
Rona recently contacted me needing help loading her horse

so that they could travel to lessons, clinics and competitions.
After one session with me I received the following....
" Thanks so much! You've transformed my summer! I now have a lesson booked and a clinic too. I feel like a weight has been lifted from my shoulders, and felt quite emotional when my horse loaded back onto the trailer straight away after a trip out last night. You are a genius indeed! x
Rona A. Forest of Dean
Tracy needed help loading her daughters horse after many failed attempts from others trying to help....
" I wasn't expecting miracles. I was hoping for tools to help us continue to work with Robbie's lack of confidence. Gill was amazing!! So calm. So patient. So understanding. Robbie was so relaxed. Actually we all were! I cannot express enough how grateful I am to Gill for coming to see Robbie and working with him and us. We never felt under any pressure and I know Robbie didn't! This morning we were able to walk Robbie on and off the box without any issues or hesitation. I cannot begin to tell you how happy that makes us feel. For the 4 years we have owned Robbie, people have been telling me about how his negative behaviour is to do with him being stubborn and obnoxious but I always believed it was just because he was young with confidence issues, which Gill agreed. I'm so glad I contacted Gill. I would highly recommend her and have! Thank you!!
Tracy P. Bridgend
Below is video showing me working with a tricky loading horse.
Creating a relaxed and supportive working environment helps build trust & confidence quickly
Laura wanted help with rebuilding trust & confidence with her horse....
" I cannot thank Gill enough. She has helped us regain trust and confidence in one another, made a huge difference to my horse and grately improved our relationship. I would not hesitate to recommend Gill to other horse owners."
Laura N. Monmouth, S. Wales
Is your horse difficult to clip?
Barbara needed help with her daughters pony who had to be previously heavily sedated to
clip
.....
"After one session our pony was much calmer around clippers and after two sessions we were able to clip him out without any sedation! Unthinkable before Gill saw him. I have recommended Gill to lots of people who need help with behaviour isssues."
Barbara, Monmouth, S. Wales
Needing help with a young horse?
Tereasa contacted me desperately needing help with her young horse...

.
" Without Gill I would have really struggled with my young horse, I might have even given up and sold him on. Gill is not only a lovely person, but kind and gentle in manner, and never judgemental. She is also fantastic and extremely skilled with horses and explains everything fully, as well as being incredibly helpful and knowledgeable. Gill has a true gift with horses, she is also a very intelligent lady with a great personality. I highly recommend her."
Tereasa B. Shrewsbury
Specific problem solving work includes....
•
Foot handling & Introduction to/or fear of the farrier
I can help your horse....
Overcome his or her fear of the farrier, or
overcome past injury related issues that have led to fear.
Train your horse to happily give you every foot.
Prepare your horse for their first trim, including training the different leg holds and introduction to the farriers tools.
Help to make your horse safer for the farriers first visit.
Duke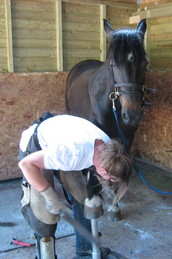 Duke's remarkable story is featured in the
case studies
section.
•Fear of the clippers & being clipped
I can help your horse overcome their fear of the clippers or a past bad experience with the clippers.
Train your horse to have a successful first clipping experience.
•
Spookiness & desensitisation to common objects
Train your horse to be OK with spooky objects that he or she might encounter when out & about.
Train your horse's mindset to relax and listen to you when not sure about something, instead of fleeing.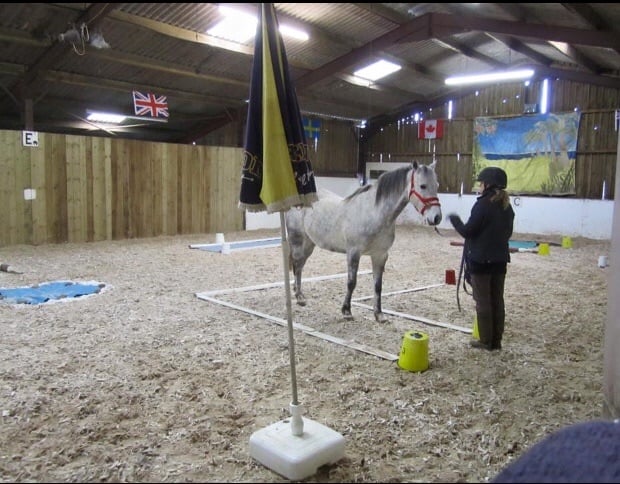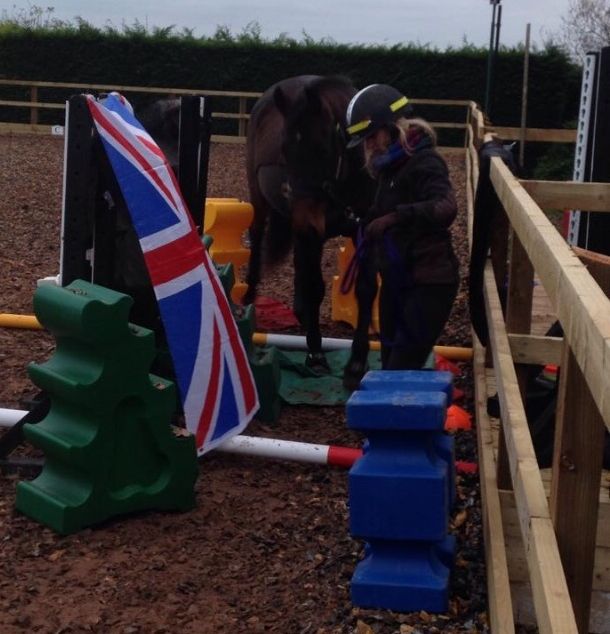 •Desensitisation to water including hoses, puddles, water jumps & ditches
Training your horse to love water and also the hose pipe is very useful!
.Desensitisation to fly spray.
See before and after video below of Harry who was terrified of fly spray.
•Desensitisation to sounds such as show ground noises, clapping & fireworks
Training your horse to not worry about show ground sounds & noises, even fireworks all goes a long way towards creating a safe horse to be around.
I incorporate desensitisation sound CD's of these noises into my training techniques.
•

Not standing still to mount or dismount
Training your horse to stand like a rock to mount or dismount is crucial for safety and convenience too.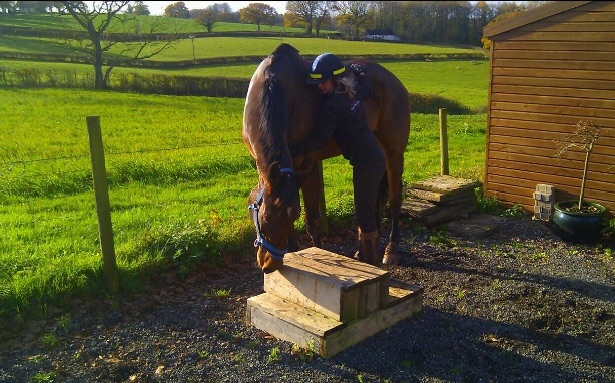 •

Herd bound & nappy behaviour
Training your horse to be happy to leave the herd and to feel safe to go anywhere with you eliminates stress for everyone.
•

Starting & Backing youngsters.
I can help your horse to have the best start in life.
Training your horse or pony to be confident in themselves and the outside World is so rewarding. Accepting things they might meet when out and about, developing a mindset of relaxing and listening to you when not sure about something is so important for both your safety.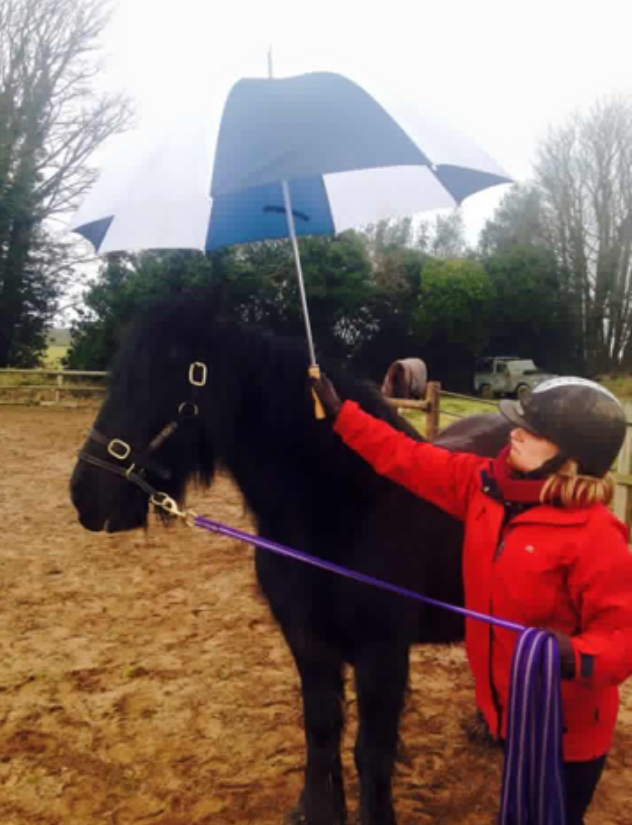 Trusting & accepting flappy moving things above them in preparation for their first rider is crucial before introducing a human on their back.
Along with
helping them to comfortably accept their
first saddle and girthing up.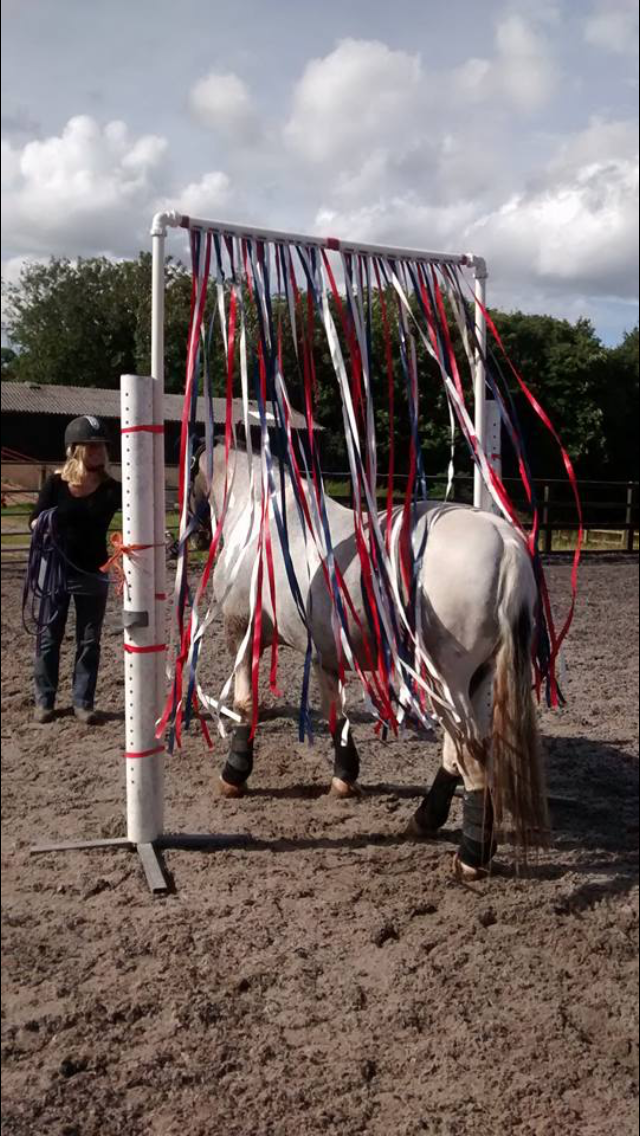 Introducing
long-
lining
as the next step
develops their confidence
and trains them to listen to guidance, reassurance, instruction and leadership from behind in preparation for being ridden. Typical scenarios of horses that have had this stage left out would be horses backing up of their own accord or spinning in panic to try and 'find' the rider! Or horses not feeling confident enough to go forwards with a rider on board, so napping has developed.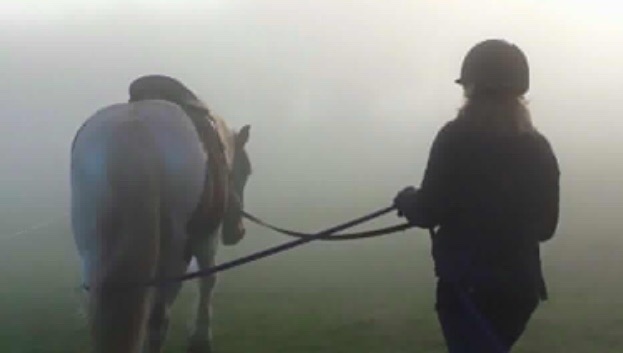 Long-lining off the saddle helps your horse to feel the saddle movement on their back whilst in trot and canter and to have an understanding of the
basic ridden aids, such as turning left and right, stopping, backing up, walking on and standing still on cue, s
o that when a rider goes up for the first time your horse understands these directional aids from a riders position and the rider therefore has a degree of control straight away.
Long-lining off the dually halter to start with preserves the delicate tissues of the mouth. Later on introduction to the bridle & bit can be incorporated.
Once your horse is ready and thoroughly prepared as above that's when I introduce the first rider and the basics of being ridden.
I work with my own rider but have also worked successfully with experienced owners wanting to back their own horses.
Some owners prefer to carry on and develop the ridden work themselves but we can develop this further if preferred/requested.
See case studies section for videos of me working with a childs pony called Maisie.
She came to me for backing and making as safe as possible for young children to ride and also for training her to stand still if the rider falls off, see video footage in case studies.
Snicky

overcame his fear of cows and now confidently socialises over the gate when passing on a hack.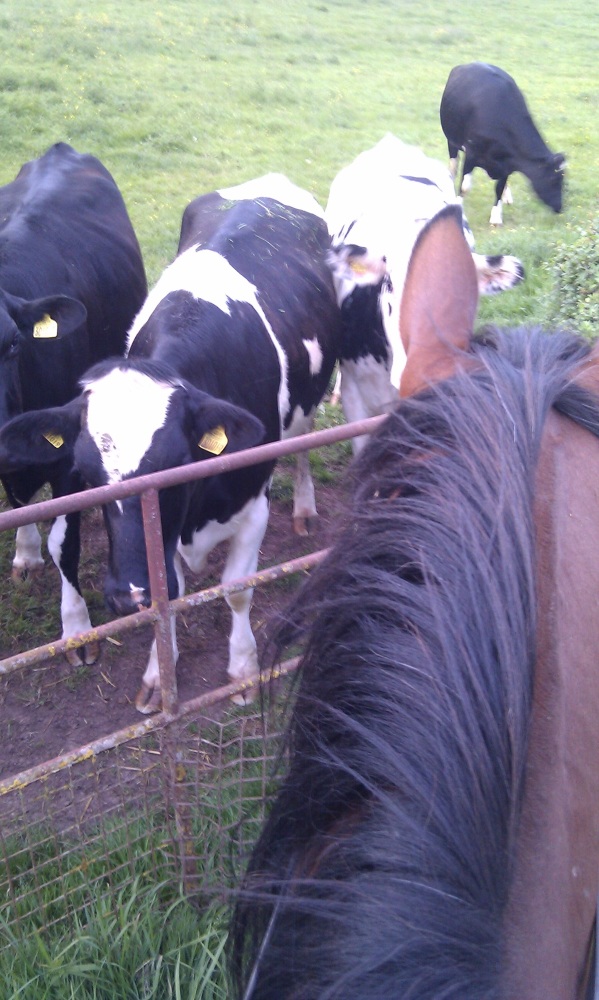 •Why not learn the valuable skill of long lining
•Develop or re-gain trust and confidence & create that special bond.
Home visits & private lessons available.